Europe Golf Travel, Ireland Golf Packages, Scotland Golf Vacations, England Golf Courses...
Helping You Plan Your Dream Golf Vacation!
Explore the Europe's best golf locations with our Golf Destination Guides! Our staff have assembled key golf & travel information on many choice destinations. The guides include:
Golf course information and recommendations
Accommodation directory
Dining directory
Activities
And much more!
Before choosing a destination for your next golf trip to Europe, check in with EuropeGolf.com's Golf Destination Guides.
Featured Destinations
There is no doubt about the beauty and challenge offered by England golf. Combine the fabulous golf with the distinct culture and history of the country, and you have an ideal destination for the golf traveller.
England Golf Courses | England Hotels | England Golf Packages
The Emerald Isle, a golfing treasure chest containing some of the finest gems in the world, has risen to prominence in recent years as an equally favored golf destination as its more celebrated neighbor, Scotland.
Ireland Golf Courses | Ireland Hotels | Ireland Golf Packages
To truly appreciate the sport, the avid golfer should test their prowess in the commonly accepted birthplace of golf, Scotland. Wherever you choose to vacation in Scotland you will find wonderful golf, as well as excellent hunting and fishing.
Scotland Golf Courses | Scotland Hotels | Scotland Golf Packages
For such a small country, Portugal's sheer variety of landscapes comes as a surprise. If you are seeking a new, interesting locale to test your skills, consider a trip to beautiful Portugal! The courses, hospitality, history and culture of this lovely country will simply charm you.
Portugal Golf Courses | Porugal Hotels | Portugal Golf Packages
A longtime favorite of Europeans, Spain's Costa del Sol is home to one of the highest concentrations of world-class golf courses to be found anywhere in the world. Spain has all the ingredients for a truly memorable trip on and off the golf course.
Spain Golf Courses | Spain Hotels | Spain Golf Packages
Though it's the smallest country in the United Kingdom - about the size of Massachusetts - Wales has nearly 200 golf courses, most of them with eminently reasonable green fees and historic origins. From the mountains to the sea, the landscape is largely rural, unspoiled and incredibly scenic.
Wales Golf Courses | Wales Hotels | Wales Golf Packages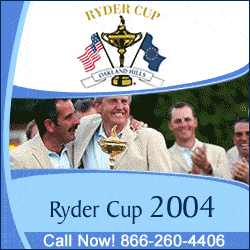 More...
Golf Packages
Trust professional golf travel experts to help you plan your next golf vacation. EuropeGolf's Travel Service is staffed by experienced golfers who can secure you those hard to get tee times and find you the best package discounts.
Start your planning here.
---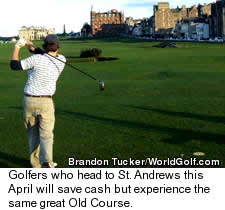 There is still time for golfers to head for St. Andrews before the summer crowds this April, Scotland's shoulder season for golf. Deals are available for gems such as the Old Course, Balcomie Links and the New Course through packager Perry Golf.